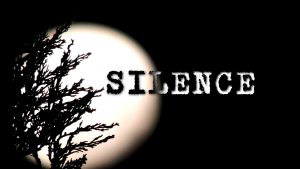 The more you scream the easier they will find YOU !
Are you ready to take the dark journey into SILENCE ?
 A strange discovery has led to the most frightening trip you will ever take
Get ready to face your fear once again in this terrifying, outdoor, immersive experience.
Be quiet, don't make sound, because if you do – They will find you…
2021 Dates & Times:
October  22, 23, 29 & 30
(Friday & Saturday both weekends)
8-11pm
Admission:
$13.00 per adult
$6.00 per child (10 and under)
Cash and debit/credit accepted
Tickets CANNOT be ordered on line
They only offered onsite and are first come, first served
Box office open at 7:30
Location:
The campus of The Church @ 434
817 E. State Road 434
Winter Springs, FL 32708
(407) 324-0203
Storyline:
SILENCE
There is a hidden quiet place, off the beaten path, tucked away in the deepest woods of Central Florida. This lush, dense forest is nourished by the waters of Lake Jessup and the forgotten flowing waters of Gee Creek.
A few years ago, there were rumors of a rare piece of jadeite being found, actually mined out of the waters of Gee Creek. Jadeite is reported to be one of the most valuable gems in the world, priced at nearly $3 million per carat. Not only is it rare it is beautiful, usually presenting in a variety of green colored gemstones.
Sadly the place where the jadeite was discovered is in a restricted protected area. According to legend, inside this government controlled area, there is a mining community that has been residing there for generations. Protected by fencing, outsiders are kept away under the strictest of legal ramifications and the potential use of deadly force.
Very few people have been reported to have knowledge of this lost mining community and the riches of what may be behind those fences. It is believed that the mining community is by choice, a zone of silence. Anything beyond the natural white noise of the wilderness is never heard. The village of miners work in silence, outsiders who have tried to venture in have found an endless series of traps, devices, and deterrents that break the silence with heart stopping sounds and as a result have protected the miners and the jadeite by keeping them enveloped in silence.
There is one additional legend that is hardly worth mentioning but some locals believe it to be true. The jadeite and the mining community is protected by some type of creature that is believed to have a highly developed sense of hearing to compensate for a lack of sight. These unknown creatures are terrifying and mercilessly prowl the silence, listening for any noise that does not belong. At the smallest of sounds these creatures are known to attack and when they do, it is believed there are no survivors.
Face the Fear 2021 – Silence, is putting together a very limited number of expeditions into this zone of silence, in search of a lost village, a community of miners, and the most valuable gem known to man. (As well as any creature that might be lurking in the forest to protect it)
See What You Missed at Face the Fear the Year